This fairytale like old granary is located at the Torps Säteri manor outside Nyköping.
Open from May-October

Painting above: "Midsommar" an 88 m² oil painting, depicts a wedding ceremony in the bronze age.

In front of painting: Bronze statues inspired by the rock engravings in Vitlycke, Bohuslän depicting a wedding couple.
At Rosenhanska you shape the wedding day your way
We offer a fully equipped venue for up to a 150 people,
with solutions for both big and small parties
Rosenhanska is certainly a unique concept in a private manor farm environment
where you bring your own bar and have plenty of time to prepare the venue
Information about wedding arrangements at Rosenhanska
We offer a fully equipped venue for up to a 150 people.
We have recommendations for several local businesses that will provide quality services for your wedding.
Price
The venue is 44 000 SEK to rent during low season (May, September and October) and 49 000 SEK during high season (June-August) plus a variable cost of 100 SEK per person. 20 beds from Friday-Sunday is included in the price.
Then most of what you need in terms of tables, white table linens/napkins, chair covers and fine dishes are included, as well as accomodation for 20 people Friday-Sunday.  You are allowed to prepare and decorate the venue the whole day before the wedding day.
Food
We recommend having a catering company. Expect a three course dinner to cost at least 500 SEK per person. We have a reception kitchen to recieve the catered dinner with everything you need such as coffe makers, ovens, thermoses etc.
Waiting staff
We provide an experienced waiting staff. They usually estimate one staff member per 20 guests and offer a package with preparation, serving and cleanup services for approximately 175 SEK per guest (minimum 60 guests).
Snacks/Canapés
You are welcome to bring your own snacks and canapés if not ordered from the catering service.
Wedding cake
You are very welcome to bring your own homemade wedding cake, but don't forget to bring coffee and milk! Equipment such as coffee maker, filters etc. are included in the price.
Beverages
You bring all your beverages yourself and make your own drink menu. We have carafes and most types of drink glasses. Don't forget nice non-alcoholic alternatives. Estimate a  150 SEK per person for an open bar.
Decoration
You decorate the venue yourself, we have lots of things like tulle, vases and tea lights to borrow. You might pick flowers and leaves on the farm. Don't forget to bring candles to our candle holders. The waiting staff usually sets the table allready on the Thursday so that you have lots of time for decorations.
Microphone during dinner
There is a microphone and a speaker for the dinner that is included in the price. Bring your own projector and computer for photos and videos. We provide a screen to borrow.
Sound system
We provide an 8-channel mixer amplifier with two 500 w speakers for you to play your own music, included in the price. A professional DJ or band usually brings their own equipment.
Late night bites
Bring hotdogs, it is a cheap alternative that the waiting staff can easily serve.
Entertainment
DJ or band? We have suggestions. It usually costs  6000 – 15 000 SEK and many bands offer a price for both church, mingle and dance music.
Time schedule
You have access to the venue the day before the wedding. Ending time for the festivities is 02.00 (music turned off) and the venue must be empty by 02.30 at the latest. One extra hour for the festivities can be purchased for 3000 SEK. You collect any belongings the day after.
Ceremony
Husby-Oppunda church is our village church. You can also have your ceremony in our garden.
Accomodation
There are 20 beds included in the price for Friday-Sunday. Berget has 8 beds, Rättarbostaden has 12 beds. If necessary there are an additional 5 double bed rooms you can book. All within walking distance to the venue.
For additional guests we recommend two alternatives: Other rural accomodation within 6 km, see Husby-Oppunda or there is the Hotell Blommenhof in Nyköping.
Breakfast
If you choose accomodaion on or near the farm we can provide breakfast at Rosenhanska for 150 SEK per person added to the total cost.
We gladly send you a basic offer based on all of these components for further discussion.
Pre-Viewing the venue
E-mail us first to get the basic offer. Then we decide on a date for viewing the venue. See available wedding dates further down.
First let yourself be inspired by Lisa and Emils video!
Wedding ceremony
We can prepare a garden ceremony starting at 5000 SEK. We arrange the benches and sound system and decorate the arch with leaves.
The sun is allways shining over Rosenhanska...
And if it rains we have a plan B to hold the ceremony in front of the stage in the venue.
Alternative ceremony
A third option is to have the ceremony after the dinner. To use the darkness and fires and light effects can be magical!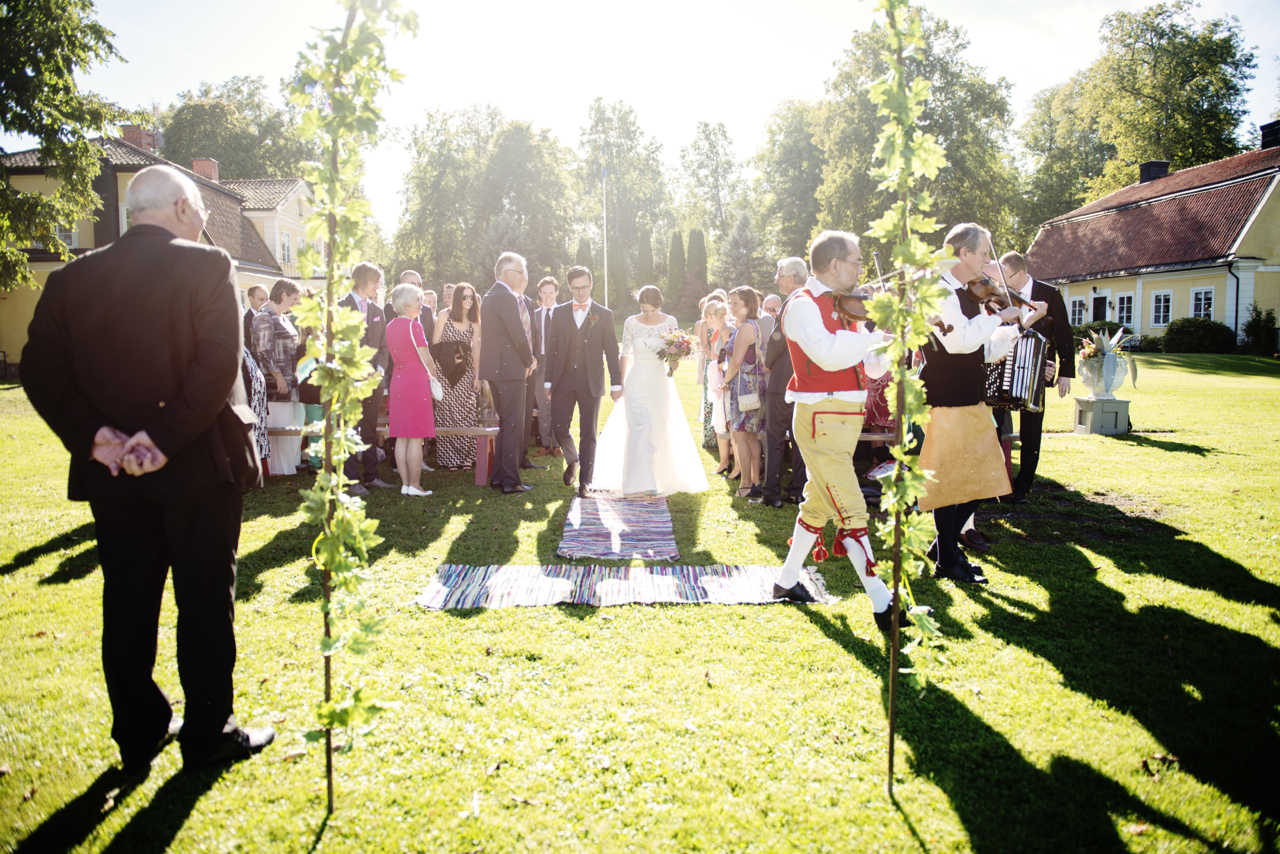 Marriage officiant
In the municipality of Nyköping you can have a civil wedding. You book a free marriage officiant at Municipality service phone 0155-24 80 00.
Link to Nyköpings municipality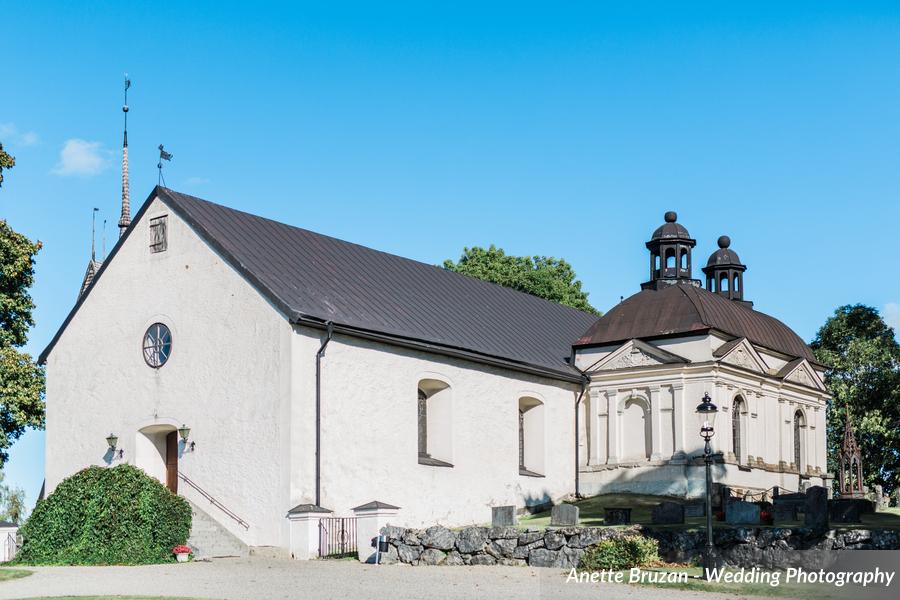 Catering and bar
We have a so called reception kitchen, that means dinner needs to be catered. You can easily heat up and keep your food warm in our ovens for large pans.
Catering
The most common is a traditional three course dinner. You can choose to skip the dessert if you have large wedding cake. Just remember that if there are going to be many speaches you might need something to fill out the time, e.g. a cheese platter, then you can keep serving the main course wine until the speaches are done. A dinner can take 3-4 hours but prefeably not longer.
We recommend Erik Olofsson. He has many years of experience and we know it will always be good. See his suggested options at menyer Buffér och Grillbuffér . Erik always keeps two chefs on site making sure the dinner is kept warm and served in order.
You contact Erik yourself and decide on a menu. 070-531 36 26
You can order the wedding cake from Sultans in Katrineholm
Wedding cakes
Bar
You can bring all the drinks you want!
If you choose to charge people for drinks in the bar, remember not to charge more than you purchased it for and to bring change. "Swisch" works well too and another smart solution is drink tokens.
There is a cool basement, a beer fridge in the bar and a freezer for your ice. Buy pre-made ice cubes from the store or from Isjouren.
A hint! Always buy bottled wine for the dinner, it looks nicer to serve.
There are 4 glasses of wine per bottle, estimate a minimum of ½ bottle per guest.
White wine for the precourse is about 3-4 guests per bottle.
An estimated 10-12 persons per bottle of dessert wine is usually enough.
And don't forget nice non-alcoholic alternatives! Let yourself be inspired by Lasätters drinks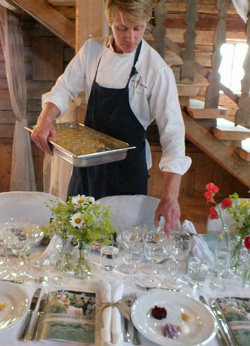 Interior and decoration
You can decorate and arrange flowers in the venue as you wish, bring what you desire the most. We have lots of white tulle to wind around pillars for you to use, as well as vases and bottles. You have access to the venue for decorating during the whole day before the wedding. Don't forget to look in our props storage before you buy lots of new things!
Disc jockey
The music is an important part of the wedding, you can choose between DJs and live bands.
Many bands have played at Rosenhanska over the years. Like to know which ones we like? Check our Facebook
A DJ should play your music! Whoever you choose, inform them of what music you prefer. It is also smart to let them arrange light effects.
Both Johan Lardh and Micke for example have played many times at Rosenhanska
Tech and equipment
Microphone during dinner: There is a smaller portable speaker for mic and computer/phone for the dinner included in the price. Bring your own projector and computer if your guests want to show pictures. There is a screen you can use.
PA-system: We provide an 8-channel mixer amplifier with two 500 w speakers for you to play your own music, included in the price. You bring your own computer or other music device.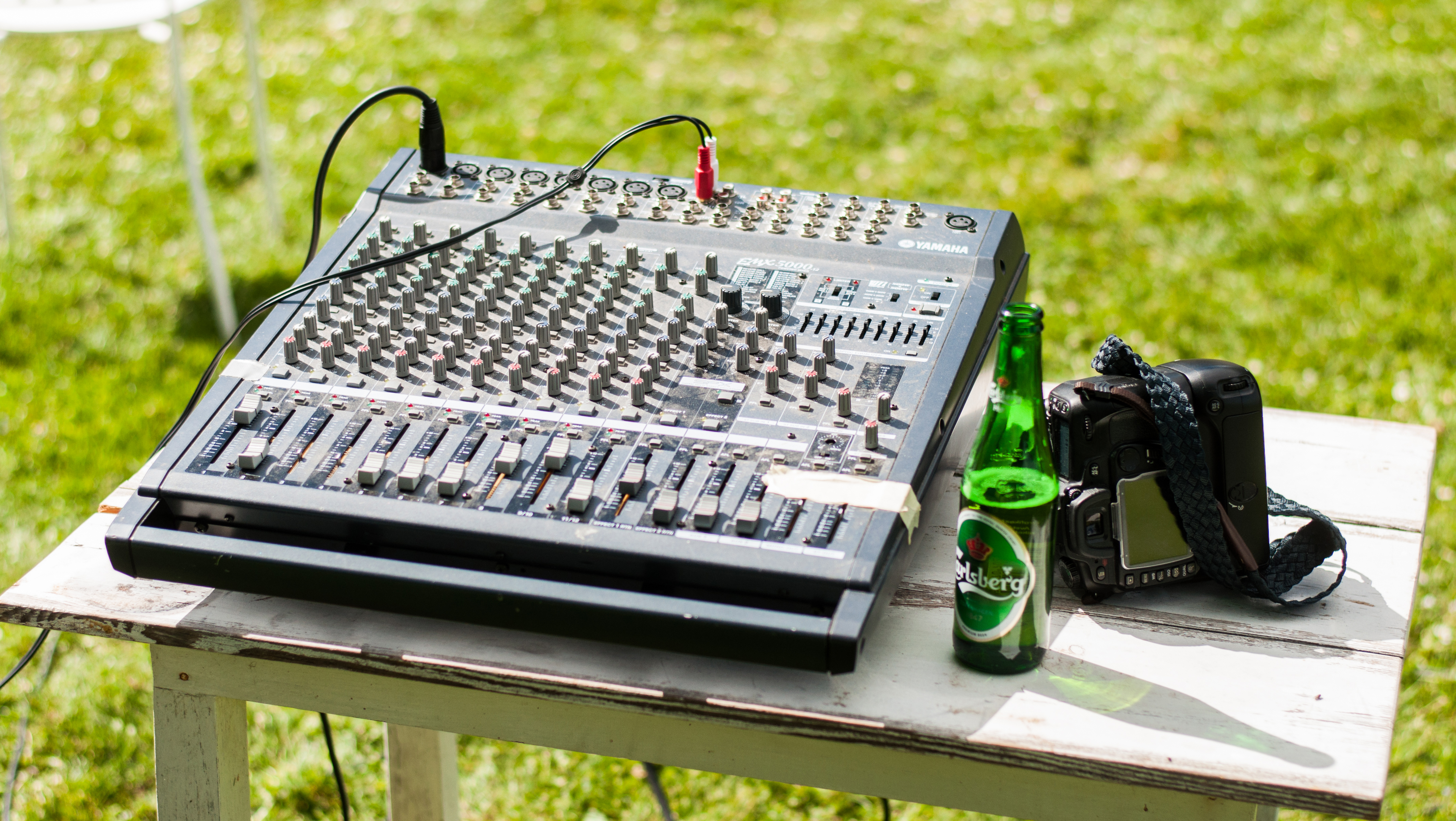 Guest rooms at Torps säteri
There are extra bedrooms on the second floor of the "western wing" for your closest wedding guests.
There are 4 double rooms and 2 bathrooms.
Accomodation alternatives
You and your closest friends like bestman and toast madame stay in our big villa with a pool (Berget). There you can have a get together party on the friday before the wedding with room for around 8 people.
Rätttarbostaden that is close to Berget has 6 double rooms. A total of 20 beds are included in the price (as of 2021).
Private guestrooms on the property: 500 SEK per person and night including sheets.

The western wing has 4 double rooms.
Månkulla has 1 double room.
If you also rent the lake cabins, that makes it 38 beds within walking distance from the venue.
To other guests we suggest two other alternatives
1. All your guests stay at hotel Blommenhof in Nyköping.
In that case we recommend that you rent a big bus that takes the guests to and from the hotel/church/venue.
Hotell Blommenhof in Nyköping is close. It is only 800 m from the central station, 5 km from Stockholm Skavsta Airport and an hour to Stockholm.
Prices:
Single: 890 SEK
Double: 1289 SEK
Contact: Therese Werthén +46 (0) 155 20206o
Clarion Collection Hotel Kompaniet is also a nice hotel. Talk to Johanna Hellström +46 739255247 johanna.hellstrom@choice.se
It is easiest to book your bus at Taxi Nyköping Oxelösund they have the best prices. Talk to Mattias
2. All your guests stay in cabins/hostels/guest rooms within 6 km of Rosenhanska.
The best part about this alternative is that you only have to pay for the accomodation but it's nice to order a breakfast for everybody at the venue the day after. We gladly send you a list of all available accomodations in the surroundings (ca 100 beds). If you want to provide transport for your guests to their accomodation we recommend you rent a minibus and we suggest a driver to hire.
Nice alternatives in Husby-Oppunda
Paris  14 beds and 2,5 km away.
Baggetorp Vandrarhem (hostel) 24 beds and 7 km away.
Brostugan 8 beds and 2 km away.
Contact Agneta Norberg +46 70-2977603 or agnetanorberg@hotmail.se
Husbygård 13 beds and 4 km away, or rent the whole main building.
Call Anders Lundin +46 70-607 79 99.
Malms gård 14 beds and 5 km away.
Contact Cecilia Malmsten +46 73-391 94 34.
Smedstorp 6 beds and 5 km away.
There are pretty pictures and maps to these places on our parish community's website
Availability
Booked

The couple has payed the down payment 

Reserved

The couple has viewed the venue and has been given 10 days to decide

Inquiries

The couple has called and booked time for a viewing
2021 

During high season a day in the middle of the week can also work!

Saturday 1 May reserved
Saturday 8 May booked
Saturday 15 May booked
Saturday 22 May booked
Saturday 29 May booked
Saturday 5 June booked
Saturday 12 June booked
Saturday 18 June booked
Saturday 25 June booked
Saturday 3 July booked
Wednesday 7 July booked
Saturday 10 July booked
Saturday 17 July booked
Saturday 24 July booked
Saturday 31 July booked


2021

Saturday 7 August booked
Saturday 14 August booked
Saturday 21 August booked
Saturday 28 August booked
Saturday 4 September booked
Saturday 11 September Reserved
Saturday 18 September booked
Saturday 25 September booked
Saturday 2 October booked
Saturday 9 October
Saturday 16 October
Saturday 23 October
Saturday 30 October


2022

Saturday 30 April
Saturday 7 May
Saturday 14 May
Saturday 21 May
Saturday 28 May
Saturday 4 June
Saturday 11 June
Saturday 18 June
Saturday 25 June
Saturday 2 July
Wednesday 9 July
Saturday 16 July
Saturday 23 July
Saturday 30 July


2022

Saturday 6 August
Saturday 13 August
Saturday 20 August
Saturday 27 August
Saturday 3 September
Saturday 10 September
Saturday 17 September
Saturday 24 September
Saturday 1 October
Saturday 8 October
Saturday 15 October
Saturday 22 October
Saturday 29 October

It is fun to ride in a nice car from the church to Rosenhanska!
This is a Ford model A from 1930. Owned and driven by Ulf Weitze.
A ride from Nyköping to Rosenhanska costs 3000 SEK. Email Ulf for inquiry weitze@tele2.se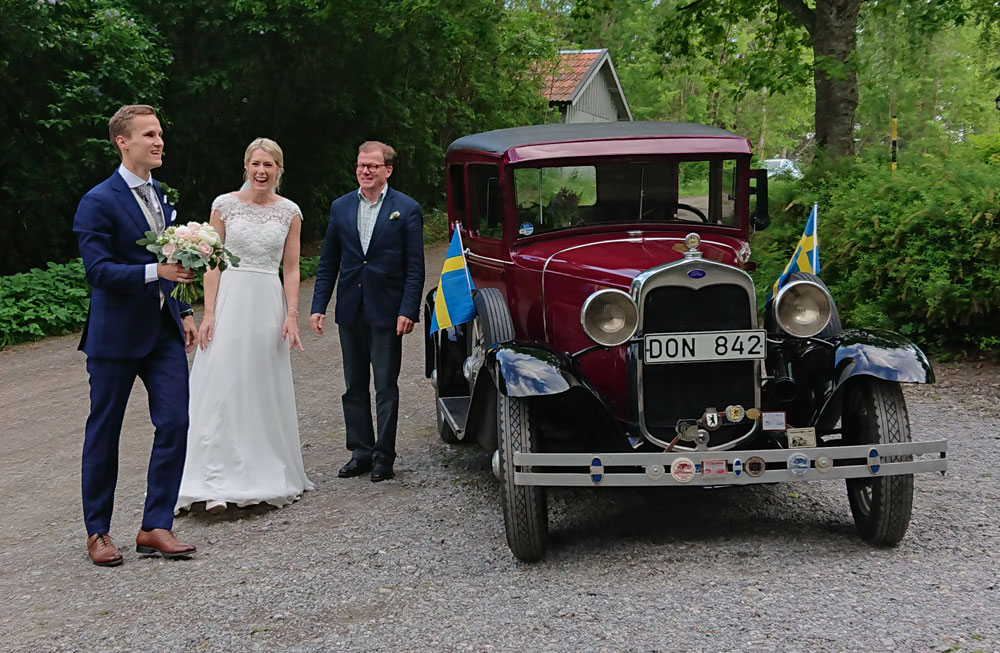 ---
---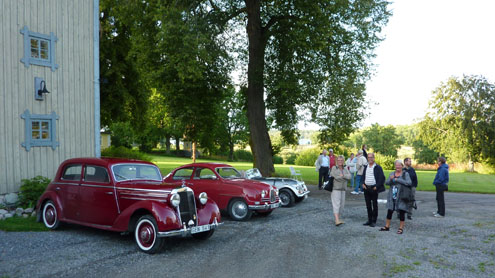 There is 3 km between Husby-Oppunda church and Rosenhanska,
a perfect distance for a ride in a wagon!
The coachman Torgny Oscarsson will drive you in his wagon for 5000 SEK.
It has a hood for when it rains.
Call Torgny and book your ride +46 73 851 89 79
---
---